Program Activities
The Polynesian Cultural Center will provide the following experience for your group.
Click on the tabs below to learn more about each activity:
Welcome Ceremony:
Students and Chaperones participate in a traditional welcome ceremony, in which the Maori Islanders of the Polynesian Cultural Center welcome them into their village, and teach them of the area in which they will be spending the night.
Daily Life in Polynesia: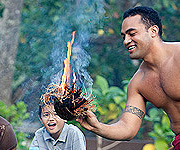 Polynesian Cooking Methods: Students are taught to make bread and learn how it is cooked in the underground oven which is known throughout Polynesia as "imu," "umu," or "hangi."
The Legend of Fire: Students are introduced to the legend of fire and learn the Polynesian method of making fire by rubbing sticks.
Singing and Dancing: Students participate in a well-known tradition as our islanders teach them to sing and dance to a folk song from the islands of Tahiti
Polynesian Migration and Navigation: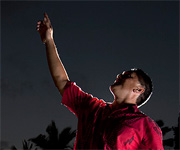 Migration: Where Did the Polynesians Come From? Students participate in an introductory lecture in which they learn the about the vast Pacific Ocean and learn the migration patterns of the people of Polynesia.
Navigation: How did the Polynesians Travel? Students participate in 3 activities that help them understand how the Polynesians were able to travel the Pacific Ocean.
Voyaging Canoe: Students take a tour of an actual sailing vessel.
Knot-Tying: Students learn the art of knot-tying, and its significance in long voyages overseas.
The Star-Compass and Ancient Way-Finding Techniques: Students learn ancient way-finding methods that Polynesians used to navigate the vast Pacific Ocean by day and by night.
Canoe Ride: Students board a double-hulled canoe and enjoy a canoe ride through Polynesia.
Story-Telling:
Students experience a tradition of days past as they listen to the stories of Polynesia.
Aerobic Activity:
Students participate in aerobic activities that test their strength, agility, and hand-eye coordination.
Closing Activity:
Review: Students take time to review and reflect on all the activities and values that they learned throughout their experience.
Closing Ceremony: Students participate in a traditional closing ceremony, as they say good-bye to the islanders who welcomed them to the Polynesian Cultural Center.
Downloads